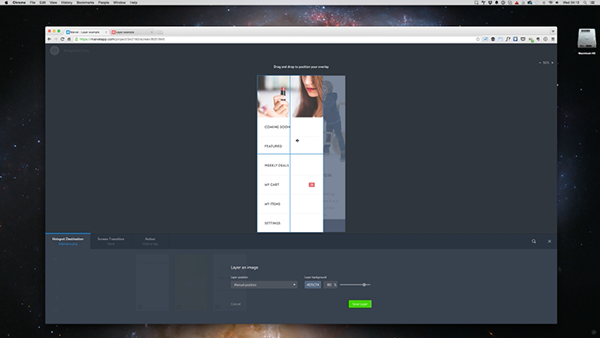 Layers allow you to add elements over the top of your screens as hotspot destinations. It's perfect for adding realistic overlays such as:
Action sheets
Sidebar menus
Modals
Popovers
All you need to do is upload the layer(s) directly to Marvel, as you would any other screen. 
How to add a Layer:
Select any image in your project and click view
Once the Editor opens, click and drag anywhere on the image to draw a hotspot
In the image selector pop up, select the destination for your hotspot
The layer an image option on the left will become available, click the button
Position your layer by dragging the image in the editor,  you can also change the opacity and background colour
Click save layer

Note - you can now add a layer on top of another layer 🎉 Find out more here.
You can see an example of layers in action in this prototype: